Discounted Bundles
Tupperware Pantrysmart Two Piece Set in Parrotfish Blue
---
Sale price
£49.99
Regular price
£62.98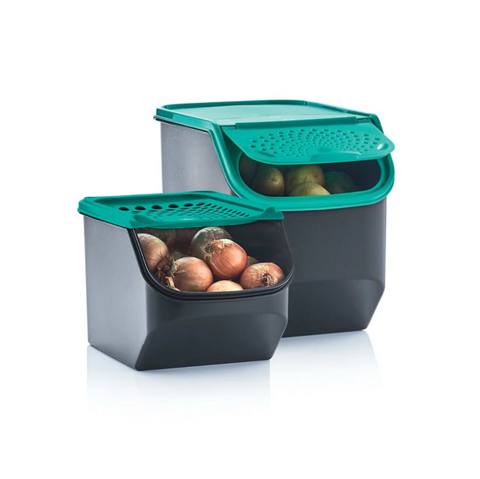 Tupperware Pantrysmart Two Piece Set Blue
The Tupperware Pantrysmart Two Piece Set Blue comprises one Potatosmart and one Garlic and Onionsmart at a discounted price!
The Tupperware PotatoSmart has a vent so that your veg can breathe and stay fresher longer.  
The Potatosmart is a large 5.5L container that is also really handy for storing other items which do not need to be airtight....perhaps dried pet food, packets which get in a mess in your cupboard, or children's sweets or snacks.
Potatosmart Dimensions are 28.5 deep x 19 wide x 23 cm high
Onionsmart dimensions Dimensions: 18.3 cm wide, 27.2cm deep and 18.7cm high
Pictured here with its cousin the Onion and Garlic Mate. Also part of the range is the Chop Collector.
Related Products
---