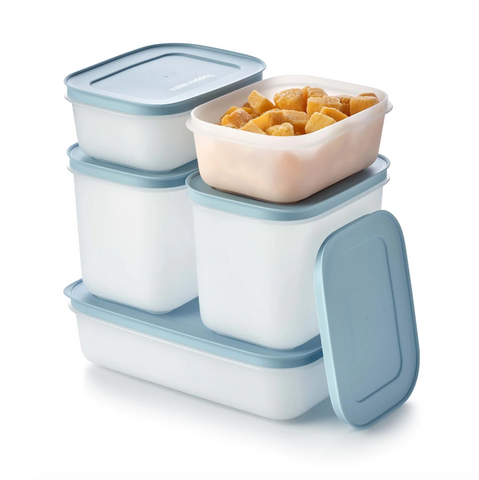 Tupperware 5 piece Freezer Set
This Tupperware 5 piece Freezer Set comes in this limited edition blue colour.
Flexible seals have been specially designed to protect your foods from the dry air in the freezer that dehydrates them. Flexible material of the bases makes it very easy to unmold the frozen food and the stackable shape provides stability and improves the airflow between the containers.
Freezer Mates are suitable for temperatures as low as -25°C
Capacities: 1 L + 2 x 450 ml + 2 x 1.1 L
Not to be used in the microwave!
Dimensions:
2 containers 450ml: 15.2 x 11.4 x 6.2 cm H
1 contaienrs 1l (low): 22.6 x 15.7 x 6.2 cm H
2 containers 1 (high)l: 15.2 x 11.4 x 11.8 cm H
Related Products
---